Make your Windows Sparkle
06 January 2014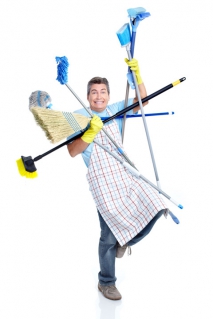 No matter whether you're a shop, restaurant or just at home, everyone will notice your windows. They are literally the first thing people will see and if its dirty, hard to see through or there are streaks left right and centre then it gives off a bad first impression. It doesn't take long to clean windows and it's a job you can get very good results with almost no effort at all.
Outside: Everyone has seen a window cleaner at work outside a shop and every single time you look at the glass afterwards, it's completely streak free. They make it look so effortless and when you get home and look at your windows, there are just white streaks all over the place. It's not surprising that they have such a good result, they have hours of practice every day but that doesn't mean that you can't get the same results, without the hours of trying. To clean the outside of the window, you're going to need to get a ladder to reach the ones upstairs. Other things you will need are is a window cleaning soapy solution, a squeegee and an applicator. Start off with the applicator and wet it in the solution. With this, you then apply the soapy solution to the window making sure you coat it generously and in all areas. Using the squeegee, you then scrape off all of the solution, ensuring there is none left. With squeegees you need to make sure that the rubber blade is still in good condition. The more worn it is, the worse your results so for a nice even, clean finish make sure you regularly change the blades. Wipe any solution off of the blade with a cloth so the solution removed isn't then replaced back on the window and end up leaving streaks.
If you don't fancy going around your house and clambering up and down the ladder, or if you have very high windows that you can't reach then consider a professional window cleaner. Most areas have a local window cleaner then come around once every 2-4 weeks and clean a number of different windows for your neighbours. You don't even need to be in for them to clean your windows and if you are indeed out at the time, they just leave a small invoice and you pay them at a later date. You can pay them in advance or just each time they come but for the condition they leave your windows in, they charge a very good rate. You will also have no need to buy the equipment or have to keep paying for new squeegee blades.
Inside: Cleaning your windows from the inside is a lot simpler than cleaning the outside simply because there is no climbing involved. You can clean the windows in the same way as outside although this can get quite messy. Another way is to simply use window cleaner spray. Different people use different things to wipe this with such as kitchen roll, newspaper and cloths. No matter what you decide to use, the thing that leaves streaks is both too much solution and not drying off all of the spray. When you think your window is dry and all of the solution is off, dry for a few more seconds.
For windows with blinds, always clean the blinds before you clean the window. Blinds collect a lot of dust and if you don't clean them, your window will just get dirty almost immediately after you've cleaned it.