Colliers Wood Office Cleaning Service SW19: X Benefits of Using Our Service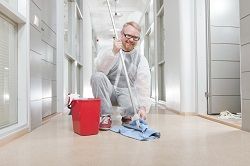 Cleanliness is somewhat synonymous with professionalism; without a clean work environment, your employees will not perceive your office to be a professional environment, and, as such, the productivity of your business will suffer. So, just as keeping the domestic home clean is important, as is keeping the workplace clean. In fact, it is probably more important to keep the workplace clean, as its cleanliness will affect the morale and productivity of the employees who work in it. Here at Colliers Wood Cleaners, we don't just supply our clients with domestic cleaning services, we also provide them with our office cleaning service Colliers Wood. If you were to choose to hire out our SW17 commercial cleaning service, you will get one of our trained Colliers Wood office cleaning professionals come into your place of work each day, either before the working day begins or after it ends, and have your office looking spotless for the next day. They will be so efficient you probably won't either notice them being there. To see if our service is right for you, call us on
– our dedicated Colliers Wood commercial cleaning agents are ready and waiting to take your call, answer any questions you may have and give you a quote on our service completely free of charge.
Benefits of Using SW19 Office Cleaning Service
1) Promotes professionalism
As previously touched upon, with a clean office comes increased professionalism. If you're employees get into work and look around them and see the vacuuming hasn't been done, the communal kitchen is in a state and the whole place is dusty, they are likely not to give their best to the company because the company is not giving their best to them. But if they were to come into work and find everything is spotless, they are more likely to be motivated to give their all to the business. To ensure your employees' morale is as high as possible, call us on
to book your Colliers Wood commercial cleaning service right away. Our SW19 office cleaning agents will be more than happy to answer any questions you have and give you a free quote.
2) It means you don't have to do it yourself
Cleaning an office yourself is almost unheard of. The last thing you want to do after working 830-530 is to get the vacuum out and go over the office yourself. And this shouldn't need to happen; almost all offices will have a budget set aside for cleaning, and our Colliers Wood office cleaning service will fall well within that budget. So don't give yourself more work, book our SW19 commercial cleaning service by calling
right away!
3) A clean office creates more business
Just as maintaining a clean office is important for employee morale, it is also vitally important for the perceptions your business clients have of your business. If a client were to meet you in your offices which haven't been cleaned for weeks, they are most likely not to want to do business with you. But if they come into your spotless office, then they are much more likely to be willing to do business with you. Don't let your business be adversely affected by poor appearances; book out our Colliers Wood cleaning service right away.
Excellent Office Cleaning Services at Budget Friendly Prices in SW19
Above are just a few benefits of hiring out our SW19 office cleaning service, there are, of course, countless of other advantages. Please do not hesitate to call us here at Colliers Wood Cleaners on
to book our office cleaning service SW19 right away.
Save
Save