Cleaning Hard Surfaces In The Home
14 February 2014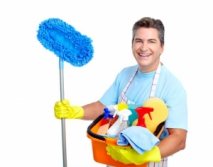 When it comes to making your home look incredible, there is often a lot of attention paid to hard surfaces. Everything from stone to glass is used in the modern household, and these materials make the place look sleek and chic, but if they are dirty, then that effect is unlikely to last! The best way to ensure that your house feels as beautiful as it is designed to be is to ensure that all of your surfaces are as shiny as possible, and this can take a certain degree of knowledge about the materials that you are dealing with! Have a look over the following tips and tricks for getting your hard surfaces clean with ease.
Stone
When it comes to luxury design, stone is often a feature in the modern home. You will find that the various different finishes of stone that can be found throughout the house will add a touch of textural elegance to the rooms that they inhabit, but keeping them clean can be a nightmare. There will be dedicated cleaners for the type of stone that you have in the home, from slate to marble, and they will all have the specialist price tag. If you are looking to avoid spending over the odds on your already extremely pricy finishes, then you will be pleased to hear that most stone surfaces can be cleaned safely and effectively with a pH neutral cleaner. This is found it its most common form, in washing up liquid. A few drops in a bucket of hot water will usually be all you really need, so it's not all that bad! Remember to vacuum stone floors regularly, and specifically just before you mop them, as this will ensure that you get all of the potentially marking debris off. Mop with a well drained mop, as excess water can get in to porous stone over time, and cause real problems. Use a non abrasive sponge or cloth on work surfaces or stone clad walls, to avoid scratching, as the marks that can be caused by steel wool and the like can be extremely difficult to get rid of and very unsightly!
Glass
All houses have glass in them, so it is pretty essential that you know how to get it looking right. Whilst glass, window and mirror cleaners are all very commonly available, full strength white vinegar is often the most effective product to use. IN a spray bottle, and dilute with a bit of warm water, the application of vinegar leads to the grease being cut through extremely quickly and easily, making the job a very simple one. Let the product sit for a minute before wiping it down in an 'S' motion, before rinsing and using a 'squeegee' to get a streak free finish.
Hard wood flooring
Getting hardwood floors looking great can be tricky, but you don't need to go for the specialist cleaners most of the time. A little vinegar, a small amount of dish soap, and a bit of hot water on a not-too-wet non scratching mop, and you should be absolutely fine! Vacuum beforehand, so that all scratching debris are gone, and then ensure that you don't get excess water on there, as the planks can soak it all up, which may well result in warping over time!
As with any specialist surface, there are more complex lists of do's and don'ts to be found. Consult your professional cleaning service for more information about how you should be cleaning your home.
You may also like: